Connecting systems and empowering people.
Connecting people and spaces to deliver a seamless experience within smart built environments.
The internet of things (IoT) has changed how people interact with their surroundings. Yet, in order to maximize opportunities, systems need to be connected and people need to be empowered with the right tools at the right time. Digital Twins have the power to cut across a variety of operational layers, data sources and organizational silo to enhance situational awareness and drive action in real-time.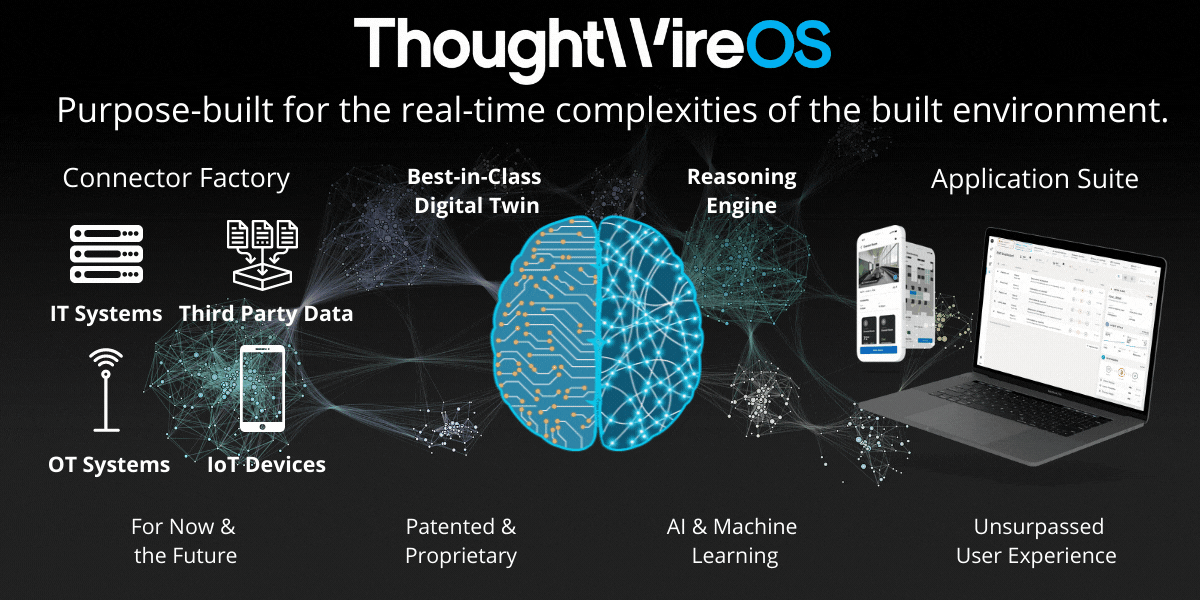 Our smart applications work to solve your toughest challenges.
Easily Connect and Interoperate
Interconnect all of your IoT devices, systems and data to provide end-to-end visibility across all operations, interactions, workflows, processes etc.
Identity Management
Tie context from the Digital Twin to specific people within an organization to tailor outcomes for each individual and their current context
Event Driven Real-time Action
Non-linear rule processing of events allows complex orchestrations to take place asynchronously whether that is delivering information, changes to a system or device, or tracking meaningful state of a task.
Create a Digital Twin
Dynamically build and maintain a contextual model of the data, context and real-time state of your operations within a built environment.
Break Down Data Silos
Bring together data to build meaningful context for individuals to support complex decisions that transform and optimize operations.
Apply Semantic Linking
Cognitive reasoning enables real-time monitoring of signals, user actions and events to determine appropriate actions to take based on consistent and unambiguous semantic information.
Built on super-fast graph database technology, the heart of our underlying technology is the Digital Twin. Not simply a digital mock-up of the physical environment, our Digital Twin is the contextual model of an entire organization and its operation.


Data is the new infrastructure and every built environment is a complex web of legacy systems, IoT devices and sensors, people and processes. Our digital twin platform is designed to handle the complexities of turning information from sensors, systems and machines into actions for humans in real-time.
NOT YOUR AVERAGE TECHNOLOGY PLATFORM
Learn why by downloading our latest whitepaper.