Driving connections at the core.
Providing a Digital Twin Platform for smart built environments.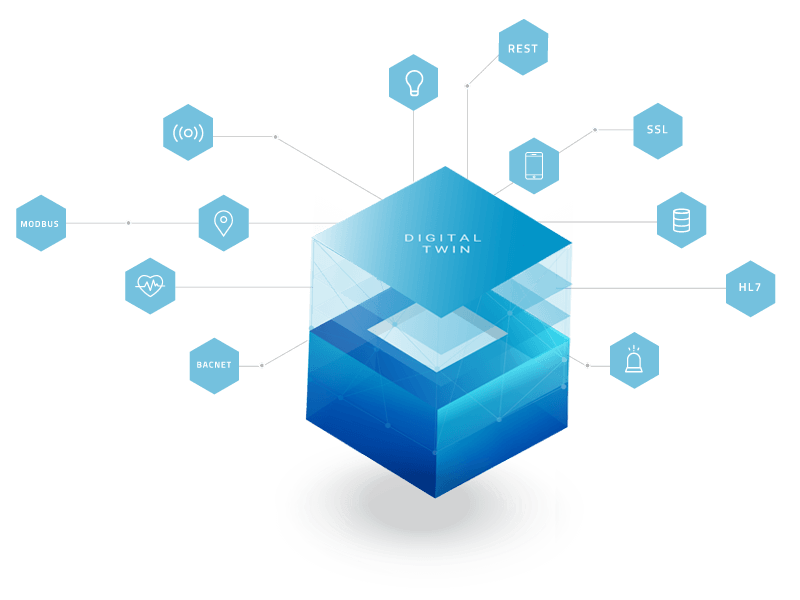 Apps. Built on an
award-winning digital twin platform.
Data is the new infrastructure and every built environment is a complex web of legacy systems, IoT devices and sensors, people and processes. Our digital twin platform is designed to handle the complexities of turning information from sensors, systems and machines into actions for humans in real-time. Discover an intelligent foundation for turning your built environment into a smart spaces for people to work, live and play.
Sense.
Sense the built environment and the assets, IoT devices and people inside. Collect, sort, and manage this data to turn it into information.
Think.
Extract context through semantic reasoning and separate relevant data from the noise.
Act!
Engage people to take action immediately, update systems and interact with IoT devices to improve outcomes.
Digital Twin Platform services
Easily handle asynchronous semantically rich events, and make decisions using all relevant context.
Uses semantic reasoning to infer data relationships and create context. It's the underlying framework for intelligent rules processing and workflow automation.
Get cloud, edge and network security delivered to ISO standards. Strong identity controls ensure context-sensitive access.
Intelligently orchestrate application logic that defines relationships between people, process and things.
Events and system rules generate alerts and notifications in real-time to indicate when critical information about people, process or things become available.
Get access to the underlying Digital Twin for data mining, analytics and reporting.
Data processed in memory and all sensitive information relating to employees or patients is de-identified.
Mobile-enabled for iOS and Android device platforms.
Proven connectivity layer that orchestrates pre-built connectors to simplify and streamline integration and communication with a wide variety of protocols.
Built to grow with you
A modular architecture designed to be flexible and scalable as you add IoT sensors, create new processes, IT systems or change the physical environment.
Secure by design
Isolated access to subsystems (ISO standards) mitigates the risk of cyber attacks. Robust access management, threat monitoring and alerting ensure that only authorized users can control the environment.
Edge to cloud and back
Deploy our solutions in the cloud and the edge. Reduce data processing in the cloud with edge processing and data aggregation. Make bi-directional changes to the edge of the network.
Safeguarded to protect your data
Secure in-memory architecture ensures that sensitive information is not persisted within the platform. All sensitive data is de-identified for logging.
Easily connect and interoperate with a wide variety of data sources.
The connector factory allows our applications to sense, connect and communicate bi-directionally with your existing infrastructure. Whether it's IoT sensor data, legacy building automation systems or electronic health records, our all-in-one communication layer is equipped to capture the information necessary to deliver context-rich information.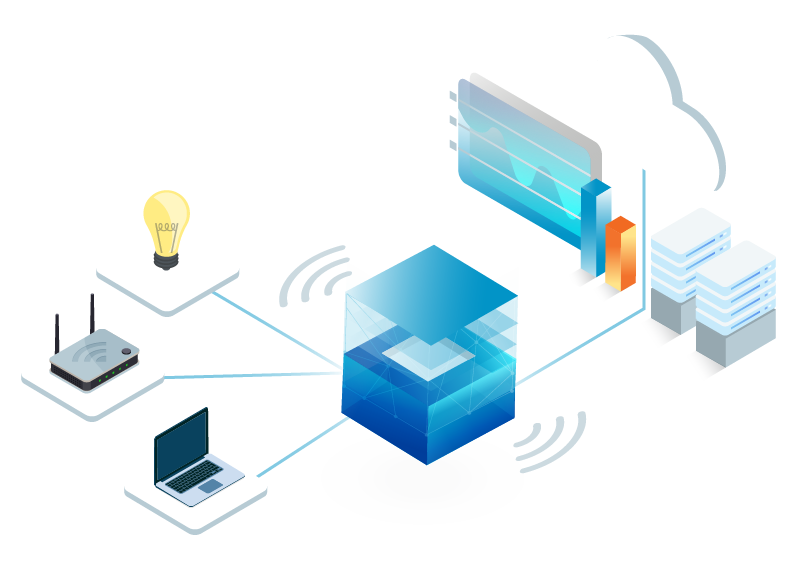 Solve your communication challenges with a flexible connectivity solution. 
Designed to interconnect with just about any type of building system, IoT device or third party applications.

Connect 

to existing BAS/BMS or directly to IoT devices like smart lighting, temperature sensors and Bluetooth beacons to transform data into context.

Protocol support to connect and communicate with a variety of third party applications.

Bi-directional communication enables the connector factory to make changes to underlying systems in real-time (e.g., lock down elevator banks, load shed or dim lighting).
Solve the challenges of latency in receiving critical information and notifications. 
Intelligent orchestration of existing clinical information systems like EMR/EHR, nurse call systems, scheduling systems, RTLS and special purpose alarms.

Broad support for a variety of healthcare assets like patient monitoring devices, clinical systems like EMR/EHR and building systems to deliver a holistic view of hospital operations.

Make the most of your existing IT investments, unlock and uncover relationships between data stuck in rigid legacy systems and stream real-time information from IoT devices.

Bi-directional communication enables the connector factory to make changes to underlying systems in real-time (e.g., open or lock doors, call AGV, etc.).
Native support with any IP enabled system. 

Support for over 200+ protocols from legacy to the latest IoT enabled devices.

Pre-configured schema to dynamically map data to graph database, reduce latency and improve deployment time.

Intelligently orchestrates only the connectors necessary for actions at run-time.

Seamlessly connects to and communicates with existing IT infrastructure like databases, data lakes or any cloud based or on premises data storage solution.
Ready to learn more about our Digital Twin Platform?